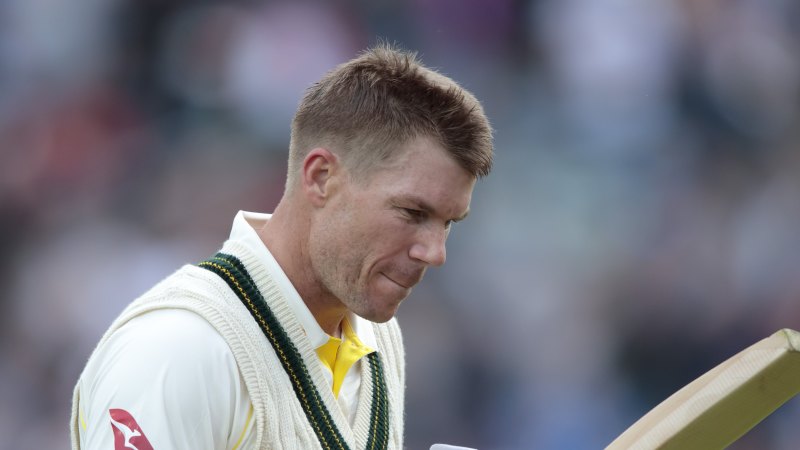 The short stuff has worked a treat. Rory Burns is gone for nine, caught behind after gloving a pull shot off Pat Cummins.
That wasn't the most vicious bouncer, but well directed at his left shoulder. It was high enoughf for the batsman not to be able to control.
Cummins softened him up with two well directed bumpers. That's produced the misjudgment and the false shot. Clearly, Burns did not want to be on the crease copping bouncers all so he's tried to take it on – and paid the price for it.
This is an excellent first hour for Australia.
They're going upstairs to Burns. Pat Cummins is giving him a good working over with the short ball. He's not handling it very well at all.
Left-field move here by Tim Paine. He's brought on spin with Nathan Lyon, presumably to have a go at the left-hander, Rory Burns. As we've seen, his record is a lot better against lefties, though letting him get a single first up is not in the playbook.
Here are the wickets so far.
Jason Roy
Joe Root
Do you agree with ball tracker? Back leg would have raised Australia's hopes but it was a tad high.
A reprieve for Joe Denly. Australia and Josh Hazlewood thought they had another wicket, Denly lbw, but the video umpire's disagreed with Joel Wilson.
It hit Denly on the back leg but a tad high – and it's the bounce which has saved him. Ball tracker had it going over the stumps. Good review by England.
Josh Hazlewood's done it again, so has David Warner. Australia have the big wicket of Joe Root, out for a second-ball duck.
That's an excellent slips catch by the man they call The Bull – and isn't he up and about. He's giving it the crowd. He loves it, and so he should – that was flying to him, and he's taken that clean as a whistle, as Bill Lawry liked to say, to his left – which isn't easy for a first slip. That's usually the wicketkeeper's domain.
Batting from well in his crease, Root's dangled the bat outside of off stump to a well pitched up ball from Hazlewood. He's played down the wrong line.
I can't say I didn't warn you about that – Jason Roy is out caught at first slip by David Warner to Josh Hazlewood. He goes for nine.
If you're the 'keeper or in the slips, you're always in the game with Roy at the crease. He has a clear weakness outside of off stump. It's not as big a factor in one-day cricket, in which he dominates, but the extra movement of the red ball finds him out.
Here's he's thrown his hands at a wide one from Hazlewood, hasn't moved his feet, and Warner's taken a fine catch low down at first slip. And isn't Warner happy about it. It's a big confidence booster for him after his issues at Lord's.
Joe Root is at the crease in the fourth over. Australia are in the game.
We've seen that headline before in Australian cricket, but this time it's more positive for Australia.
Jason Roy looks a prime caught behind candidate to Josh Hazlewood. Plenty of batsmen play and miss, but it's one thing to do it playing straight down the line, as David Warner did yesterday on numerous occasions, it's another chasing the ball as Roy likes to do as it increases your chances of getting an outside edge.
I'm not sure why any Australian cricket fan would want to see this again, but here are the highlights of the first day when Jofra Archer dominated with 6/45 as Australia were bundled out for 179.