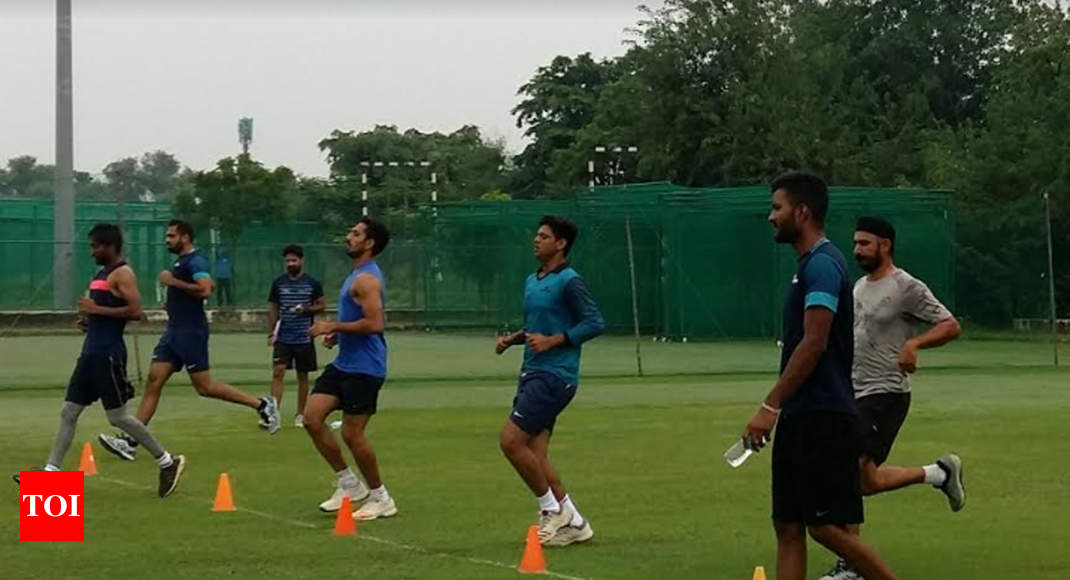 JAIPUR: Team Rajasthan appear to be in a 'good shape'. Out of 29 players who underwent the Yo-Yo Test on Thursday morning, 27 cleared the strength and endurance test conducted at the RCA Academy.
Puneet Yadav and Siddhant Dobal failed to touch the 16.1 mark, mandatory for a player to be eligible for selection in Rajasthan's seniors' team. The two batsmen failed to prove their fitness once again like last year.
While the seasoned crop of players like Aniket Choudhary, Ashok Menaria and Robin Bist ended the test immediately after crossing the eligibility mark, youngsters like Ramnivas Golara showed remarkable level of stamina.
Rookie batsman Golara scored the highest mark among the lot at 18.3. He was followed by Abhimanyu Lamba and Ravi Bishnoi, both of whom tallied 17.2.
Strength and conditioning coach of the seniors' team Yogesh Murdia said that he has seen a remarkable turnaround in the way players now devote time to fitness.
"Given that the players know that clearing the Yo-Yo Test is the selection criteria, no one compromises on their fitness. Throughout the year, most of the boys work out on a regular basis and that makes it easy for them to clear it," said Murdia, who has been with the team from last couple of years.
As a coach Murdia takes a lot of pride in the fact that under him, majority of the cricketers could pass the endurance test.

Team Rajasthan adopted the Yo-Yo Test in December 2017 with the players undertaking it for the third time. Before zeroing in on the 15 probables for the Vijay Hazare Trophy, the selectors have shortlisted 24 players for the practice games to be held from September 7 to 14 against Bengal and Services.

Khaleel to join: Once done with India's T20 series against South Africa, left-arm pacer Khaleel Ahmed will join Team Rajasthan to play in the Vijay Hazare Trophy. "I will be available for the domestic tournament," he confirmed. Right-arm fast bowler Nathu Singh is currently nursing a knee injury and is likely to miss the domestic one-dayers. Veteran medium-pacer Pankaj Singh, who is back in Rajasthan fold after a one-year stint with Puducherry, will also be unavailable for selection due to fitness issues.
Probables for practice matches: Yash Kothari, Ajay Geegna, Rajesh Bishnoi (sr), Amit Gautam, Tejinder Singh Dhillon, Tanveer-Ul-Haq, Abhimanyu Lamba, Manendra Singh, Ramniwas Golara, Aniket Choudhary, Rituraj Singh, Shubham Sharma, Ravi Bishnoi, Divya Pratap Singh, Chetan Bist, Mahipal Lomror, Robin Bist, Arjit Gupta, Manav Suthar, Vikas Jhorar, Aditya Gharwal, Divya Gajraj, Ashok Menaria and CP Singh.

Source