Romanian DJ Akcent on Friday wished fans in Pakistan a happy Defence Day in a unique manner. The singer has toured the country on more than one occasion to widespread approval from music fans.
Taking to social networking platform Facebook, Akcent posted a photo of himself with two armed men, and a caption which wished Pakistanis a happy Defence Day.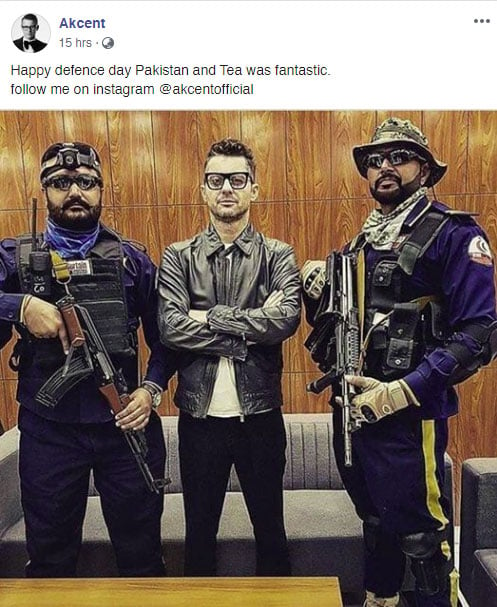 Akcent added that the "tea was fantastic", a reference to a video of Indian Air Force Wing Commander Abhinandan, who was captured after his warplane was shot down in Pakistani territory.
In the video made after his capture, Abhinandan appreciates the tea given to him by Pakistani officials as they interrogate him. The Indian pilot further added that Pakistanis had treated him very well, saying that the tea provided to him was fantastic.
The post has received thousands of likes and hundreds of shares on Facebook. It has sparked wild reactions from fans on social media from both sides of the border between Pakistan and India.
A few days after his capture, Pakistan released the captured Indian pilot on the directives of Prime Minister Imran Khan as a gesture of peace. He was handed to Indian authorities on the Wagah border crossing.