Last year, 5368 people packed into Drummoyne Oval to watch the Brisbane Heat claim their first WBBL title over the Sydney Sixers. The final was watched by a combined average audience of 479,000, peaking at 812,000. Officials are predicting both attendance and viewer numbers to increase.
More than two hours before the game, the first girls started to trickle into the stadium at Waverley Oval. It's a lenient premise that Thunder coach Trevor Griffin swears by.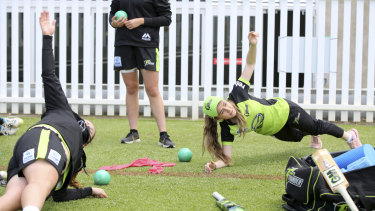 "I'm not an 'everybody's got to be here at a certain time' coach," he said. "Whether that is they turn up 10 minutes before the structured team warm-up, or whether they take the time to utilise the coaches that are around … so long as they're ready to go out and face the first ball, I'm more than happy if that means sitting around listening to music or an active session."
Many of the younger girls showed up the two hours earlier, with most hitting some balls to get out the last-minute nerves. The skipper for the day, Hannah Darlington, 17, was one of the first on the pitch and led the girls who were present in a light warm-up.
"My first ever go at cricket, I actually hit the teacher in the head by accident, so it was either detention or cricket. So obviously, being the good girl I am, I chose cricket, no detention," Darlington said.
Entering her third year with the Thunder, Darlington is completing the HSC, which starts the day before the Thunder's first game of the season.
"I think the best way to look at it is it's my break from studying, so unlike other people, I don't look at my phone for the half an hour study break, I go into the nets or I go and train," she said. "Most people are at home studying and I'm out here playing a cricket game."
Forty-five minutes before the game, the girls were all on the pitch, joining their strengthening and conditioning coach for a structured warm-up before heading onto the field. After the umpire approached this reporter for the team sheets, stand-in Sixers captain Erin Burns won the toss and elected to bat first.
The Thunder players were noticeably excited to play with recent international signing Nida Dar, 32, whose contract represents the first time a Pakistani woman has signed a deal with an international cricket league.
As I ran water onto the field, Blackwell kept the momentum going, especially encouraging the younger girls with a pat on the back when needed. Griffin made sure the girls kept their focus as they prepared for their stint at the crease, encouraging them to bat strongly, despite knowing the Sixers made just 82.
The Thunder passed their total with ease and kept on batting to end with 182/6.
Sarah is a journalist for The Sydney Morning Herald.