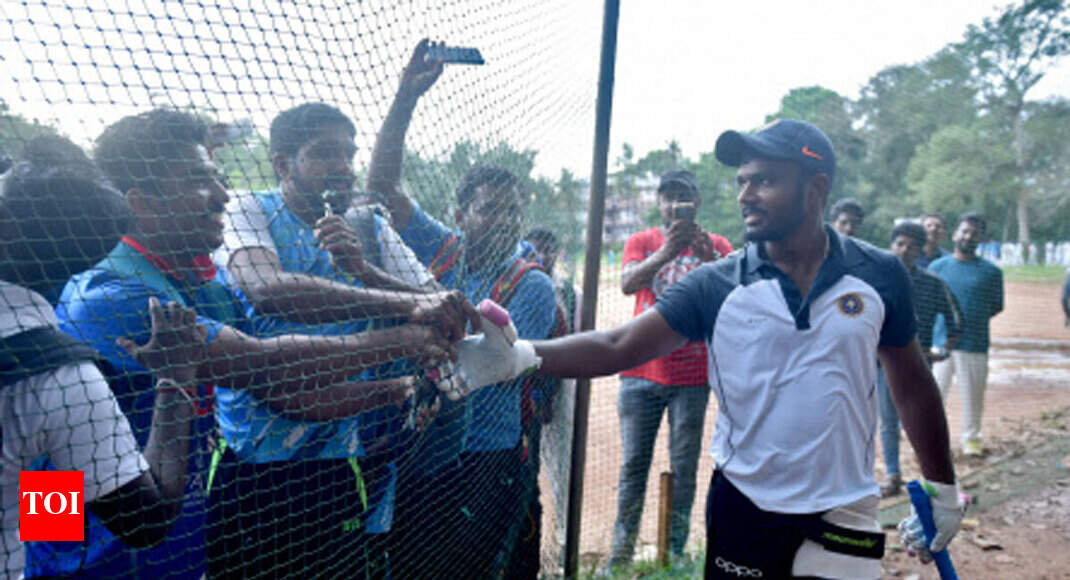 KOCHI: The long wait for Sanju Samson has finally ended. Four years after his debut for India, a T20I against Zimbabwe in 2015, he has broken into the Indian squad again on the back of some impressive displays for India 'A' and for Kerala in the Vijay Hazare Trophy, including a record-breaking 212 (the highest domestic List-A score) against Goa. Soon after his selection, the dashing stroke-player spoke to TOI on how his game has evolved over the years in an interview. Excerpts.
How do you feel to get back into the Indian team?
I am feeling very happy and excited. I have been working very hard to get into the Indian team, which is the best in the world. I am happy to do whatever role the team gives me whether it's in the top-order or the middle-order.
What is the biggest change in your cricket this season?
The biggest positive change this season has been that I tried to play to my strength. I try to dominate and play fearless cricket all the time. This season has just started and I would like to keep performing like this.
Take us through the record-breaking double-ton in the Vijay Hazare Trophy…
It was a special innings. The wickets were good to bat in Bangalore for that tournament. I had been scoring 40s and 50s before that and that too at a good strike rate. So I knew if I get past 100 and if there were overs left, 200 was a possibility. I just reacted to each ball in that innings. I did nothing different compared to the earlier knocks.
Do you think the T20 selection is a stepping stone to ODIs?
I would like to believe so. I just want to concentrate on T20s so I can perform and go to the next level. It depends on the form and performance. Any opportunity I get, I will try to give my best.
Are you hopeful of a place in the T20 World Cup team next year?
The dream is to play and win the World Cup for my country. I don't know which year it will happen. But that is my dream.
What is different from Sanju of 2015, when you first played for India?
I understand my game better now. I can gauge what the opposition is thinking during a game. It has come through the experience of playing a lot of games. Obviously, I am much more relaxed now when I step out onto the field. I have grown as a cricketer as well as an individual now.
You have faced some tough times in between. Who are the people who supported you?
My family and friends have stood behind me firmly during the difficult periods. Then there are the cricket association people like Jayesh sir ( new BCCI joint-secretary) and Vinod sir (Trivandrum District Cricket Association secretary) have backed me. There have been a few misunderstandings along the way but they have always valued my performance more than anything. Then there is my coach Biju George who was always ready to help me with my cricket.
Who has had the biggest influence in your career?
My father has been my biggest motivator. No one supported me as much as my father and mother. It was my father's dream to have nets at home. And a couple of years back, he constructed a cement wicket and nets in our compound so I won't miss out on practice when I am home. It was lovely to see him doing all these to boost his son's career and for all my achievements, I owe a lot to him.

Which is your favourite knock so far?

There are many I would like to rate as a favourite. The 212 is definitely one. Then there is the 91 vs South Africa 'A' recently. The centuries in IPL were special. It is always a wonderful feeling to score runs in difficult conditions in first-class cricket like the 175 against Saurashtra in 2017.

Source